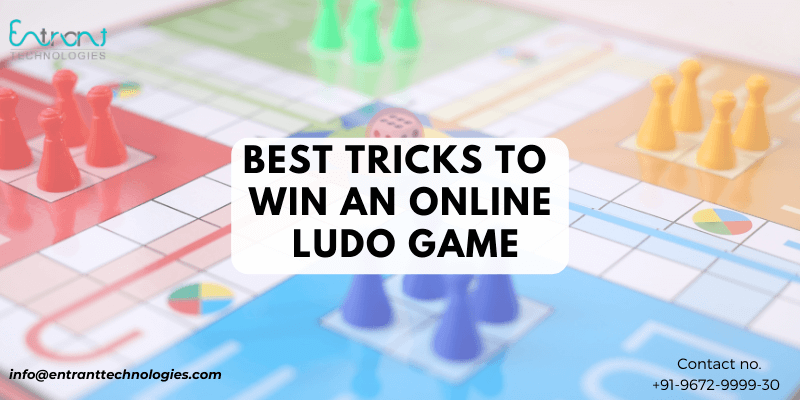 The growing popularity of Ludo has led to the game being available at our fingertips, where we can easily play against any number of friends and random players. When you play traditional board games against the same players, you identify their traits and create winning techniques against them. In this article, you will get to know about the best tricks to win online Ludo game with one of the best ludo game developer in India Entrant Technologies Pvt Ltd. Entrant Technologies is the best ludo game web & app development company that provide various solutions for their clients.
The game allows users to keep the wheels of their brain constantly turning, anticipating an opponent's move, and thinking about their next strategic move. Also, the more you play the game, the faster you will think. This possibility gives a huge wave of adrenaline rush to all users. The game is extremely difficult to predict because of this factor of luck.
If you love to play board games, then Ludo must be one of your favorite games. While people mainly play Ludo games for entertainment purposes, not many know that Ludo is also a game of strategy where using correct Ludo tricks and tips can be used to win Ludo games. But if you play online, you are mostly contesting against various players each time. Entrant Technologies Pvt Ltd is a well-known ludo company that provides ludo game development with the best solution for ludo development. Before learning some tricks to win the Ludo game, you should have some basic knowledge about the game, like how to play Ludo.
If you are one of those people who don't know even a little bit about Ludo, don't worry. Here you will learn the basic rules and some of the best Ludo tips that can help you win the online Ludo game most of the time. Ludo is one of the most famous indoor games in the world and One of the best features of Ludo's age is that it strengthens the bond between players, from the earlier times people use to play Ludo to spend some time with their loved ones with joy and entertainment. When gaming org acknowledged that people are showing more interest in ludo, some of them developed ludo games.
Some Basic Rules
As Ludo does not need any introduction because its rules are almost identical around the world, but if you are a novice and want to be familiar with it, don't worry that you are at the right place here. The main objective of the game is that the player who takes all 4 gotis (tokens) to the finish line first wins the game of Ludo whether you play Ludo Offline or online. There is no need for any equipment for playing Ludo online. All you need is a smartphone device because every essential thing is designed in the game and you just have to start enjoying the game on the device. Now we can discuss some rules of the Ludo Game.
6 is mandatory for every player to take the goti out of the base. An additional opportunity is rewarded to the player who got 6 once.
If a player gets 6 consecutive three times, the player loses his turn.
If your goti descends on the opponent's goti, its goti is sent back to the base.
If your two gotis are in the same block then your opponent cannot kill your goti because they are in a safe place.
Many people consider Ludo to be a game of luck, but it is more of a strategy game than luck. There is no such cheat code to increase the number of dice, but there are a few tricks to get the number six. Here are some suggestions for the Ludo game, if you make your game properly strategic then you can win almost every game.
Top Tricks to win Ludo Game
These days online Ludo platforms are giving real money to the users and because of this people are investing money in this game, even without thinking about whether they have some knowledge about the game. Flear people work cleverly and get acquainted with the game by analyzing the game before investing and knowing every rule of the game. If you have the appetite to win every online Ludo game and want to earn real money by playing Ludo, then just read the ludo tips and tricks mentioned below:
Open all Gotis (Tokens)
This is one of the most useful tricks to win every Ludo game because if you bring all the gotis out of the base then you can make a move of any number and you can cover the entire board by keeping each Goti in every corner can do. And this is one of the first ludo moves towards your winning strategy to get all your gotis out of the home base as fast as possible. Opening all Gotis gives you more flexibility when rotating them, especially when the number is low on the dice and you cannot save a significant goti from the opponent with that number. As a result, focus on putting all your Gotis in action as soon as possible.
Protect Best Goti (Token)
Make sure that the Goti (token) that is ahead of all your other gotis is the most secure. Gotis, which scored the most boxes, would have scored the most naturally. An opponent will try his best to cut this particular goti because in doing so, they will ensure that all the points you make on that goti (token) are lost.
Spread all Gotis (Tokens)
If you want a strategic advantage in a Ludo match, you should focus on expanding your gotis on the board. Placing your gotis collectively allows you to move your gotis independently if there is no opponent nearby. For example, if you have two gotis in the same place and are surrounded by opponents, transferring any piece can kill your goti immediately. In addition, with this strategy, you can also prevent your opponents from reaching homes and winning the game.
Adopt attack strategy
Attacking opponents is the most exciting part of playing Ludo, even when you risk your gotis. Your plan should be to attack your opponent, even if you risk your gotis, whether your goti is in the first or second quadrant. To become unbeatable in Ludo, one must adopt a strategy of attacking. However, if your goti is in the third or fourth quadrant, you should attack your opponent only if there is a chance to run away to a safe distance. Nevertheless, you should always anticipate the risk before hitting your opponent's goti. The safe distance is always at least seven steps ahead of the opponent's gotis. According to this rule, your opponent is less likely to score 6 and 1, reducing your chances of getting killed.
Block opponents
Turning your opponent is a trick for your goti to enter the home safely. When one of your goti is near to entering the home, opponents always keep an eye on that goti to capture it. To protect your gotis from an opponent's attack, you must stop your opponent's gotis while chasing them. Staying at least seven steps ahead of your opponents is the securest place for your goti on the board. One promising approach is to always be at least seven steps ahead of your opponents as they are less likely to reach that number.
Positions of Gotis
Don't be lazy while playing Ludo online, that should be your tagline. It also helps you not to miss a chance to capture your opponent's gotis. Always remember where your goti are so that you know which goti to take when you find a number that can give you an advantage over your opponent.
Use Safe Boxes
The safe boxes are your buddies in the game of Ludo and as a rule, when a goti enters the safe box, it cannot be cut from the opponent's goti. All online ludo games have 8 safe boxes. The box from which each player starts his game is a safe box and every eighth box from that first box is also a safe box. Use safe boxes when you are entering an opponent's territory and these can be really convenient.
These rolling rules will help to better understand the game to win consistently and make quick strategic decisions. Understanding the above tips and tricks will help you get better at the game and win almost every match in Ludo. Nevertheless, it is also important to comprehend that luck plays a very important role in deciding the winner in this game. Each ludo online game player has their own unique playing style which sets him apart from the rest of the players.
Conclusion
Ludo is the best game to play between friends and family, it turns your free and boring time into a pleasant and fun time. These Ludo tricks by ludo game development company Entrant Technology Pvt Ltd are here to help you make a wise choice while playing Ludo. It is best to practice these strategies in the free version of Ludo before you start playing the real money Ludo game. Your opponent may also know about these ludo tips and tricks, but the player with a stronger strategy will win the game eventually. The above tips and tricks are provided to guide you to win all the matches at every stage of the game. Read them all simply and follow them to score a grand victory. Entrant Technology provides users with the best ludo game development cost in India.