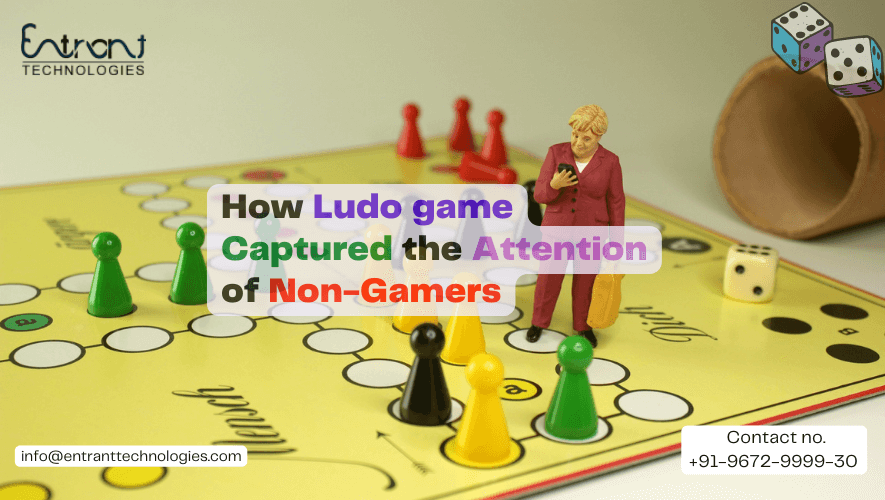 The world of online gaming is one of the few industries that has grown rapidly during the nationwide lockdown brought on by the COVID-19 pandemic. Also, board games like Ludo have been very popular all over the world at this time and India is no exception. Notably, Ludo has got a whole new look with people playing the game with their family, friends, and partners all over the country. Ludo is one of those apps that has exploded in popularity during the lockdown, increasing the traffic five times. It has over a hundred million downloads with approximately 50 million daily active users. The rapid rise in popularity of the Ludo game also captured the attention of everyone including non-gamers. With the availability of online ludo game development, the craze for physical board games has waned over the years, with everything going digital.
Board games like Ludo have become an important part of Indian culture and people like to play this game in their free time and get-together celebrations. As there are still many people who love to play games like Ludo, Carrom, or chess after a long day at work, with the beginning of smartphones and the availability of online games, the craze for board games has taken a massive hit. As mobile games have become so popular, it's only a matter of time before game developers think of new and better ways to bring the allure of board games with physical games back to mobile. The development of ludo company board games for mobile carried a new way of allowing people to enjoy their favorite board games with their family and friends without even stepping out of the house. Games like Ludo, Teen Patti, and Rummy are now an important part of everyone's phone and people have become so busy with such games.
Due to the rapid development of the gaming sector, there are a lot of ludo games out there which include real-money ludo games. However, one of the primary reasons Ludo stands out is that it reminds people of their childhood as Ludo is quite popular as almost every Indian has grown up playing it. Another reason why we believe that Ludo is popular is because of its simple, colorful graphics, and it also has straightforward gameplay with easy-to-follow rules. The demand has increased multiple during the lockdown and is expected to remain so even if people remain busy after this phase is over. The major change that the gaming industry is going to see is an increase in the number of players because ludo is also played by non-gamers. The numbers are going to be less as compared to the lockdown, but the number of active users currently is much higher than before the start of the lockdown. The major reason for this is people who always used to claim that video games are not for them or that they are bad, are now sitting at home and playing games to kill time.
As every gamer knows, games are also great where there is some degree of addictiveness and all these new viewers are not going to stop playing once the lockdown is over. Sure it will happen, but now that others have got a taste for it, they will continue to play, which is good news for online games and also for ludo game developers as well. With so many people playing the game continuously, ludo game developer in india is focusing on studying which aspects of the game the users really like, and which aspects of the game the users will not like, to be sure. So game developers can focus on finding out the cause so that they can make changes to the game accordingly. This should help them retain an audience because they will see what users like and are therefore more likely to develop ways to keep playing.
This trend was observed during the COVID-19 lockdown when people were locked inside their homes but they were able to have fun without stepping out of their homes by playing multiplayer ludo board games with their friends and family members. Everyone wants to experience that age when they were young and be able to do whatever they want with their time and ludo game development cost in india provides opportunities for those who are adults, to take time off to relax and reminisce about their childhood. In the modern world, it is difficult to connect with the inevitability of life that people have long forgotten in this fast-paced new world. Ludo comes as a rescuer to free us from the monotony by giving us a pastime where we can enjoy the lost days of being a kid and rest in our happy memories.
Why Ludo game Capture the Attention of Non-Gamers?
The advent of various board games on mobile phones has opened up many avenues that people can enjoy and the online board game Ludo attracts the attention of non-gamers because of its simple gameplay and availability of easy-to-download with an attractive UI interface. Here are some of the following points that will help in understanding what makes ludo development so interesting and how it caught the attention of non-gamers.
Easy to download App
An online ludo game is as entertaining as a physical board game and you just need to download any ludo app of your choice to play the game. Additionally, you can earn money through referrals, you can also earn prize money if you win the game. With the development of board games for mobile phones, many tournaments were organized for these games on multiple platforms like many tournaments for Ludo with a huge prize pool on different platforms.
Simple and Straightforward Gameplay
Board Game Ludo is played with a minimum of two people and a maximum of four in physical play. The game requires a Ludo board, which consists of four different colored quadrilaterals allotted to each of the four players in the game. Each quadrant is of a different color, and the player is given four tokens to play the game. The goal is to throw the dice, get the right numbers to move your pieces, and win by reaching the final goal point.
Rules of the Game
The rules are quite simple, but the gameplay completely depends on the player and his choice. Each player has to move their pieces carefully so that the other players can't predict the move, so they can hold on to the opponent's token and capture it to push back their progress in the game. The balance of luck and skill to create a perfect balance gives Ludo exceptional control over other games and makes it the sole reason behind centuries of superiority.
Playing in Separate groups
The best thing about playing Ludo online is that you can participate in any number of games within the game. Also, users can create a private room for a group of friends and play with each other. In addition, if users visit the app alone, they can either select a random person or play with another known person who gets added to their friend list. Users can find virtual rooms in the ludo app which are either private or public and play games with them. Generally, the type of look that users can see for a virtual ludo board is its skin and users can set skins on their board to add visual appeal.
Doesn't require a high-end device
The best part about these games is that they are lightweight and do not require any high-end smartphones to play them. Users will be able to play these ludo board games online on any basic android smartphone and they do not even need to be connected to a fast and stable internet network to play these games. Users can play these games offline for as long as they want and can turn on the internet whenever they want to be part of a social. However, these games in digital form can take the stress out of your mind, bring back childhood memories and make you feel like a child again.
Conclusion
The rules to play Ludo Online are similar to a physical board game, the user interface has undergone drastic changes. Nowadays many game developers and apps are giving players many options to earn money just by playing online games. In this article, you get useful information related to how the ludo game captured the attention of non-gamers. To play the Ludo board game online, you can download the game app or access websites that allow you to play the game online. To play ludo board games online, you can download the game apps or access websites that allow you to play games online, and to earn money from such apps, you need to deposit money online in the wallet. The values ??of online Ludo are very high, and it is very much superior in the present time when people feel so much stress and work in daily life. The game really teaches invaluable lessons which are useful for everyone on the long path of life. Ludo game development company Entrant Technologies Pvt Ltd provides ludo game web & app development company better solutions for their clients.