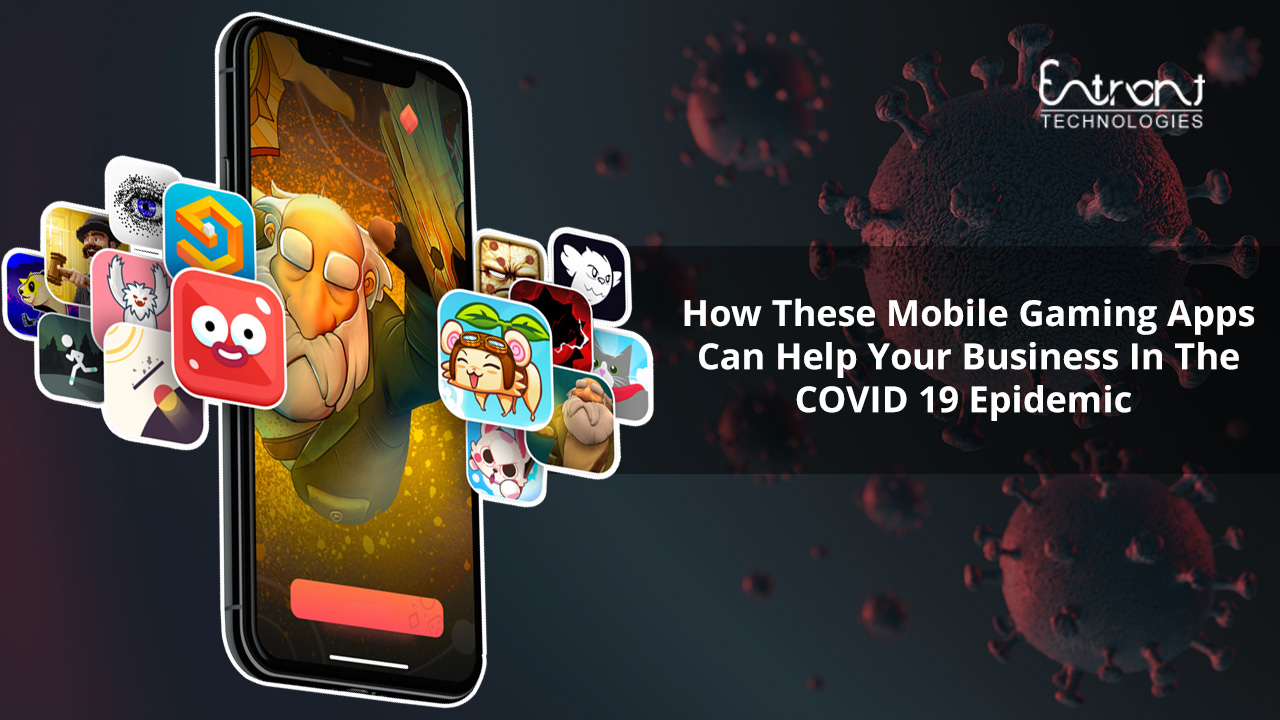 As of you know that the entire population of planet earth is suffering from the noble coronavirus. People are forced to sit in their homes because that's the only ultimate safe option to keep them safe from getting infected with the virus. This is why millions of people and millions of families are stuck in their homes. According to some reports published in the newspaper and online portals state that the user consumption of data and the total time spend on online video games and video streaming services like Netflix, amazon prime, Hotstar, etc has gone up by 30-40%.

People sitting in their homes having a hard time passing the time that's why their need for more entertainment has gone up this far. Online multimedia companies are making a huge chunk of money out of these platforms. The older generation people are usually spending time watching movies and the younger generation love to play games on digital platforms. Today we gonna how as a
mobile game app development company
you can provide people their favorite gaming application and make huge business benefits out of this COVID-19 pandemic.
We gonna talk about some of the lastest trending mobile app versions of games like Ludo, Teenpatti, Rummy, etc. These games our family has been playing for hundreds of years. It's just because of the single nuclear families in the last few decades, People forgot the traditions about these games. Earlier the whole family use to play these games altogether but with the latest trends of mobile gaming and online games, these games also are seen on everyone's mobile set.
The best thing about the games is that it allows your family and friend to play with you, you don't have to spend too much time setting everything. There are many mobile game development companies that provide games with multifunctionality and unique features. You can even add your social media friends and play with them.

Let's Talk About Mobile Games In Detail That You Can Play With Your Family:
Teen Patti:
Teen Patti game is one of the most notable card games of all time. Since years our people and families have been playing this amazing card game, and the disturbance has been extended unendingly. This game is one of the considered reasons to get together and it becomes a bit of each social gathering and gets together. It is the best way to deal with draw in and to restore your mind.

Keeping the exponential development and business possibilities right now so many game development companies ready to put resources into this game. If you are also planning to start your
Teen Patti game application development company
then it is the best time to snatch the chance.
Generally, Teen Patti means three cards but it can be played with different multipliers. There is a huge demand for the mobile application version of this game because there is still a need for such an app that can provide all the features and specifications that a player wants from the app. For sure, even at the present time, this game has indicated its embodiment on the Digital Platform and players have been influenced towards it.

Teen Patti game has reliably been known as empowering games that are esteemed all around the globe. People are using this game for their entertainment for a broad stretch. As it was an Indian game which is controlling here from old events, people in India in spite of everything pick Teen Patti over various games since this game passes on an out of control situation playing nature which bolsters your adrenaline at certain core interests.
Ludo:
Ludo mobile game is one of the most in-demand mobile games at this moment. We all know that we used to play this super exciting game in our childhood, at that time the whole family used to get all together to play this game and it was well-known board games since then. Today when people usually prefer their computer and mobile phone to play any games, many game application development companies also starting to develop a mobile version of this game. This is the reason the
ludo mobile game application development
has become so much popular and it is one of the most downloaded board games on the application platforms at the present time. Considering the COVID 19 epidemic this is one of the finest gaming apps to develop right now.
Other table games, similar to, Ludo, Snakes and Ladders have been truly remarkable since decades as 'family game'. While this smart paced life doesn't consider the family to sit together and play these games, it straightforwardly comes in the impelled course of action as a helpful Mobile application.
Also read:-

Why Teen Patti Is One Of The Best Choice For Mobile Game Development
They are in any event, utilizing the ludo game clone content to build up a game so they can make a decent benefit out of it. Participant Technologies is a main ludo mobile gaming application development organization and they have made unmistakable gaming applications and have an extraordinary involvement with creating ludo games for customers around the globe.
Conclusion:
The COVID 19 situation is a critical time for the people. People have been in their homes for the last 20-25 days without stepping out. This can cause some mental or psychological issues among some of the members. As a mobile game development company, you can provide mobile applications that can keep them engaged and entertained during this time. For example Ludo, Teen Patti is a great example of multiplayer games to play with family and friends.