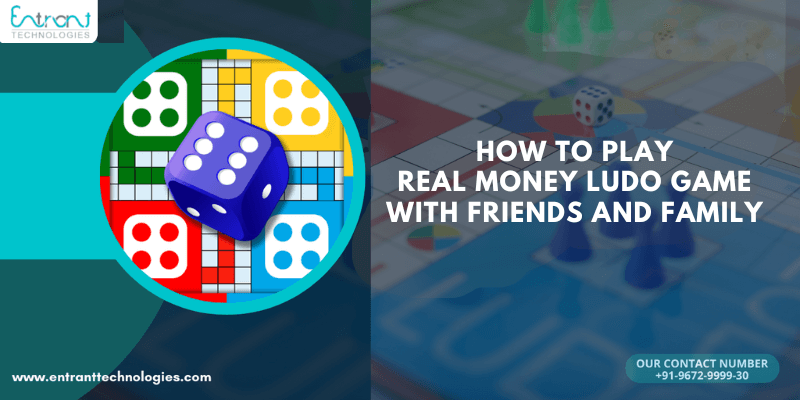 Ludo is a classic strategy board game played by two to four players individually or in partnership. The best thing about this game is that people of all age groups can easily learn and play Ludo online and offline. This is a viral game that is played widely across the world. Ludo originated with the Indian game Pachisi, which was played around the 6th century. The board game Ludo is suitable to play with your family and friends. Moreover, technological advancements have made playing Ludo more convenient and now all you need is a computer or mobile device to play Ludo while playing Ludo, users can also earn money by with playing friends and family.
Ludo is one of the most popular board games in India and is loved by people of all ages. We all grew up enjoying this popular indoor game with our friends and family. Considering the frenetic popularity of the classic board game, Entrant Technologies Pvt Ltd is a ludo game development company that is making the Ludo gameplay easy for board game lovers and enabling them to play Ludo for real money by launching an online Ludo game.
Have you ever wished to relax your mind and get a chance to win real money by playing Ludo provided by a ludo game web & app development company? With the changing times, technology has taken us from physical games to digital. In childhood, when we used to play Ludo with our friends and family, where 2 to 4 people used to sit and play together, now the time has changed. We play Ludo on our mobile devices and desktops/laptops, which has increased the demand for Ludo apps. And with the continuous ludo development games now various real money ludo games are available to play online without getting bored and excite the users while playing with friends and family.
Real money Ludo games are loved by millions of people. The best real money ludo earning app allows you to earn a huge winning prize which users can withdraw easily and safely. Ludo game has been shifted from indoor playing to an online platform, making it easy for Ludo lovers to play the game with their family members and friends from anywhere and they also can play real money Ludo games with online users across the world.
If you are excited to play online Ludo & earn real money, then you can play various online real money Ludo games. Players can simply log in, play the real money Ludo game from anywhere at any time and win real cash and many other exciting prizes. What makes Entrant Technologies Pvt Ltd - a Ludo game developer in India, different from other online ludo game developers is multiple ludo game variations, best payment options, and instant withdrawal facility directly to your original account.
If you are wondering how to make real money while a student? Because earning money while studying in college will give you financial freedom. Apart from helping your family, there are many other benefits of earning money, including knowing the importance of hard-earned money and learning important lessons about time management. Students can earn real money while playing online games with real money ludo games and it is possible because of ludo game web & app development company Entrant Technology Pvt Ltd.
The rules of the Ludo game are quite simple and easy to understand. The Ludo board is divided into four regions with each region having a different color such as red, blue, yellow, and green. Each player decides which color field they want to play with. That player then receives gotis of the same color as the chosen field and completes the game objective by rolling the dice. In the Ludo game, the individual player has four gotis, and they race their four gotis from start to finish first. Players move their tokens to the board based on the number of rolls on the dice. The first player to move all four tokens to the end point wins the game. While rolling the dice depends on the number the player gets, Ludo also requires a lot of strategy and observation from the players to move their tokens.
What is real money Ludo Game?
Real Money Ludo Earning App allows users to play games that help users to make real money on their mobile while playing with real global players. The best part is they can also play Ludo with their friends and family. Ludo app enables you to play online ludo games in various modes including 2 vs 2, 1 vs 1, 1 vs 3, and 1 vs 4, multiplayer mode, classic mode, and quick mode. Users can choose any mode and win cash prizes.
These apps also allow you to create your own private room or table and invite your friends and family to play with you. Enjoying the real experience of playing and interacting with players from all over the world is one of the magnetic factors of the real money Ludo apps. Plus, the games offer a guaranteed reward and fill your pockets with a signup bonus, which you can redeem to play games and win more money by playing real money ludo company games.
How to play real money Ludo Game with Friends
Excited to play ludo games online and earn money with friends and family? Follow the steps given below to play the Real Money Ludo game online with your friends, family, and real players from all over the world.
Interested users need to first download the real-money Ludo game to play and win with the Ludo game.
Then users have to sign up or log in to play and win real money with the Ludo game.
Users can play two (2) or four (4) players mode with online players of the exciting game to win real money and exciting prizes with the Ludo game.
Users can also play real money Ludo games with their friends and family.
Once a game starts, the players will get a chance to roll dice.
If someone skips 3 turns in the real money Ludo games then they will lose the game.
A player needs 6 in the dice to start a goti (token) starting from a square.
Players must always move a token (goti) according to the dice number, passes are not allowed.
Home squares are always safe since no opponent ever enters this.
One player whose all four tokens reach home 1st wins the real money ludo game and gets rewarded as per the contest reward.
Play real Money Ludo Games with Friends in various Modes
In the different modes of real money ludo game users are pitted against each other or one/more opponents who are playing the same mode of the game. Users can also play with one or more friends to win real money in the ludo games. Users can either play for free or pay the entry fee to play Ludo with friends and earn money while playing the Ludo game. If someone wants to play with the online players then after paying the entry fees they get the matchmaking with the player who also wants to play the same entry fees match. You and the opponent have to play the game once and after that ludo, a match prize will be given to the winner of the game or if someone exits the match in the midway they have lost the match including they have to pay the entry fees again to play the new match.
After paying the entry fee in the real money ludo game if anyone does not get the match then the entry fee will be refunded to their accounts immediately. The fees also are refunded if there is some technical error occurs at the beginning of the game. A player must not leave the game in the middle of the match or they will lose the match and if their internet is disconnected while playing the game then the player will also lose.
Win prizes on Ludo with family and friends
You have the opportunity to earn more by referring your family members and friends to play real money ludo games online. All the money you earn by referrals and match rewards can be transferred to your bank account directly without any restrictions on the withdrawal. A TDS will be deducted from the total prize if you win a higher prize in a single match. Make sure to follow the guidelines of Real Money Ludo game development to ensure a seamless gaming experience.
Conclusion
Ludo as a board game is one of the most famous games as we have grown up with it. The basic rules and easy gameplay of ludo games are familiar to everyone, due to which the demand for the game has increased. Playing ludo online is quite famous as it makes it suitable for players to play the game whenever they want. Anyone can play Ludo and earn money from the comfort of their couch, during work breaks, or when bored. Therefore, the satisfaction of victory against your opponent is close and justified. No wonder online Ludo has become so popular and loved by users of all ages. Those interested in ludo games can develop the best ludo games from Entrant Technologies Pvt Ltd including details of ludo game development cost in india.