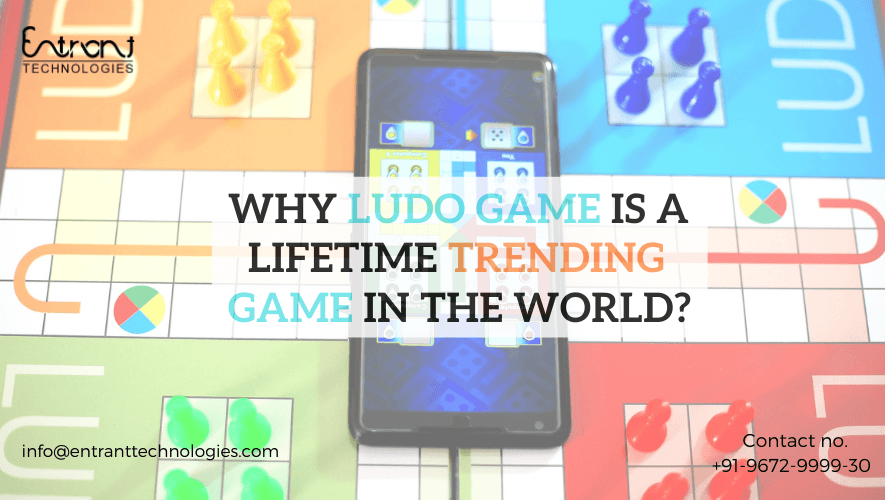 From actor-producer to your friends, cousins ??, and even your boss, everyone is playing Ludo. As it happens, one of the most popular sports in the country, especially during the lockdown (which came into force on March 25), has been Ludo, a take from the medieval Indian game Pachisi. Whether it's people returning to a childhood favorite or just looking for it now, the game has seen a surge in popularity. That's Why ludo game is a lifetime trending game in the world.
And with it being rated as the top free game on the Google Play Store and App Store (with over 300 million downloads on the Play Store), it is statistically likely that if someone is playing the game on their phone, So they must be playing Ludo. Whereas ludo game development company Entrant Technologies Pvt. Ltd. is one of the best ludo game developer in india and provides the best real money Ludo games for users.
In the era of smartphones, the craze for the game of Ludo has re-emerged. Ludo is Known as one of the best board games among young children, it has become clear that even adults can't get enough. The popularity of online Ludo games has grown tremendously in recent years. Millions of adults and youth love to play Ludo online.
It is becoming quite common among the youth to meet friends regarding the game of Ludo. While Others love the thrill of challenging random opponents online. No matter how much you enjoy a game, we can all agree that we love playing Ludo online. For time immemorial, board games have always been a favorite play in every family. From kids to adults, these games attract everyone's attention. Even as digitization has taken over the world, we ensure that the online versions retain the essence of these games.
No get-together or house party would be complete without some board game challenges Such as playing Ludo. While we are all stuck in our hectic and tedious schedules, online versions of nostalgic board games are the go-to way of entertainment and fun for all. Mainly talking about the Ludo game, it is always amazing to know how such a simple board game can bring so many benefits to people. Apart from this, these sports also serve as a medium to improve both the mental and physical health of the players. And, with the online version in hand, it's even more pleasure and contesting.
According to reports, before the lockdown, the total number of daily active users (who play games daily) was around 15 million. After the lockdown, at the beginning of May, Ludo touched the figure of 2.51 billion. As far as the average daily playtime is concerned, it was around 32 minutes before the lockdown. Now, it is increased to around 49 minutes, while some players play for three or four hours in a row.
Facts on the Why ludo game is a lifetime trending game in the world
The actual Ludo game is acknowledged to have been created in India and is now played in various parts of the world with slightly distinct styles and rules. As the online Ludo community gets more robust, we can finally unite and be a part of something bigger. As much as we love the game not many people know the engaging details about it. There are many incredible and interesting facts about the ludo game web & app development company that you may not know before. Read this article for some incredible facts about Online Ludo.


Before Ludo became one of the most popular indoor games of our childhood and an ultimate online gaming sensation, it was played by majesty and nobles in India. Many early reports and forms of the Ludo game have been found in India. It is clear from these references and illustrations of the modern board game that Ludo originated in India. Today, lakhs of kids and adults have played the Ludo game at least once in their life.
When Ludo was played in India in the early centuries, this board game was known as Pachisi. The game was very similar to the Ludo online board game being played today. The highest score a player could throw in this version of Ludo was twenty-five. Pachisi is derived from the number 'twenty-five', called 'pachchis' in Hindi.


With time the online game of Ludo spread all over the world. Numerous nations and societies created their own game versions using slightly distinct rules. Nevertheless, the core principles of the Ludo game remained intact. This spectacular and exciting game was liked by everyone from the Americans to the British. This spectacular and exciting game of online ludo was liked by everyone from various countries. If you have played the Ludo game with your family and friends, then you will know how intense and fun playing this game can be. With technological advancements in the online Ludo game, it is now possible for people across the world to play Ludo online.


Many online ludo players believe that digital dice are pre-programmed with specific varieties. But In fact, it is a complete myth. Online ludo games' dice are completely random and maintained by an algorithm. When you play an online Ludo game, each roll of the dice is unpredictable.


Nonetheless, the online Ludo game is based on strategy and not luck. When you play an online Ludo game, the roll of the dice is really based on luck. As the dice roll is spontaneous, online Ludo game players control the movement of their pieces. Players decide their strategy by controlling the movement of their pieces. This makes traditional Ludo and even online Ludo, a game based on strategy.


Here are some more additional examples that help one to understand Why ludo game is a lifetime trending game in the world.
A perfect family entertainer
What can be more fun than spending some quality time with your loved ones while playing an online ludo development game? Most of the time, people get so caught up in the required duties that they forget to cherish our family time. Hence, taking some time out from the daily hustle and bustle to spend time with your loved ones will bring unforgettable moments for a lifetime. After the impact of the pandemic, people are now generally spending some more quality time with family and enjoying playing online Ludo games with their loved ones.
Helps in dealing with mental illnesses
A few minutes of playing an Online ludo company game or any other board game can reduce a lot of mental stress. In addition, if it is an online game, challenging virtual players from all over the world and winning exciting prizes will serve as great relaxation and inspiration. So whether it is your long-term mental agony or just a casual tiring day at work or home, a few minutes of playing Ludo with friends and family will help you defuse all the hassle.
Sadly, mental health is often neglected. Pressure, strain, and sadness are the primary reasons that leave many people in a quandary. With the Ludo game, people suffering from mental health issues can find a way out of their pressure, depression, and anxiety. This kind of online board game works as fresh air which gives a sense of relief in difficult times.
Ludo game enhances cognitive abilities
Generally, board games are beneficial in sharpening your mental skills, thereby leading to faster brain development. And Online ludo game is no exception to this. Tackling the randomness of the dice, countering unexpected opponent moves, and strategizing your pawn's movements, all together, stimulate your brain cells for better performance. Furthermore, it is even more competitive and challenging than Online Ludo due to the game's unique algorithms and programming.
Where users can play Online Ludo games?
Many Ludo apps are available to download for both the play store and the Apple app store for free. Ludo king is one of the most popular and famous online Ludo games that are playable by many players. Apart from these, there are various platforms for Mobile Games which are catering to people of all age groups with a wide range of exciting games including real money online Ludo, which is indeed one of the most popular games on the website.
The mobile gaming sector of board games is the fastest growing segment among all segments of the gaming industry. With affordable mobile handsets and access to the Internet across the country, the number of mobile gamers is expected to reach over 500 million by 2023-24. Real Money Ludo game development is one of the fastest growing gaming platforms that offer gamers excellent opportunities to play and win huge cash prizes. So have some fun playing Ludo and other games of your choice and earn real money after winning.
Conclusion
Online board games such as real money Ludo games are nothing less than a reward if used properly. Entrant Technologies Pvt Ltd provides the best solution for Real money ludo game development cost in india. They not only entertain but also contribute to the development of the individual. Spending a few minutes or maybe an hour or two is enough to recharge yourself from stress and move on with life on board games like real money Ludo games. Nevertheless, excess of anything can harm you. Playing these games in moderation will make them both enjoyable and rewarding, without becoming an unhealthy obsession.