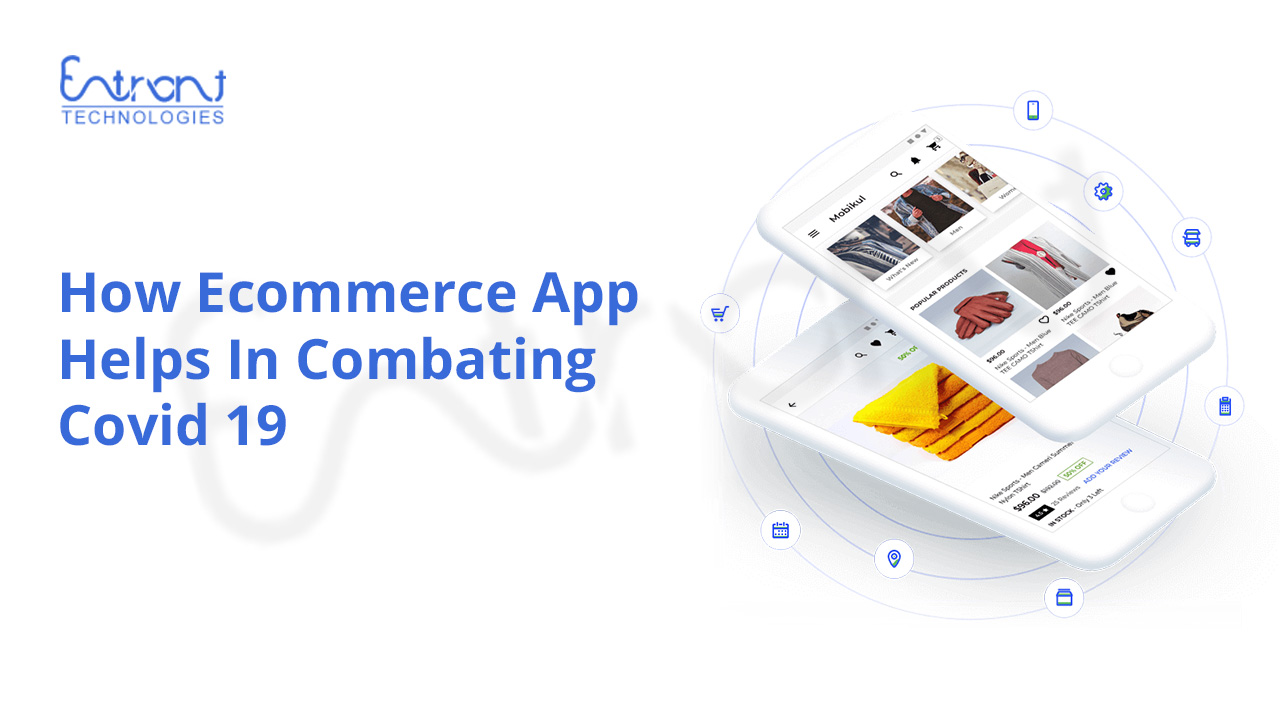 E-commerce business is dramatically affected by COVID 19
With global cases reaching over 1 million, Coronavirus undeniably has the biggest impact on people and businesses all over the world. With each passing day, things are going worse than getting better. A countless number of states in the world are in complete lockdown. Due to this people are spending much more time using the internet than ever before. The consumption of the internet has already increased to the extent of 50%. So if you are having a retail business, there is a good chance to increase your customer base. Today people are spending more time than ever before shopping online, and e-commerce business has been dramatically affected. Let's have a look at how the eCommerce space is operating right now and what is the role of eCommerce apps in combating COVID 19.
Ways eCommerce app helps in combating COVID 19
1. Ecommerce is transforming
Due to lock down, brick and mortar stores are already facing the harsh reality looking at the quarantine measures and restricted outdoor visits enforced by governments everywhere. A research study has estimated that consumers are expected to experience this particular type of situation for a period of around four months. Due to this six out of ten people may end up shopping online. It has become quite crucial for retail businesses to hire
eCommerce app development company
for building up an app to meet consumer's online shopping demands.
2. The rise in e grocery stores
Since the entire world is facing severe lockdown and more and more people are isolating them with every passing day, due to this the number of consumers resorting towards the online grocery stores is increasing by leaps and bounds. According to the research conducted by French retailers, there is a 600% increase in the demand for vegetables online. Also, the retailer in China reported that there is already a 251% enhancement in e grocery sales between the months of January & February.
3. Online medicines stock
When Governments all across the world are urging people to maintain social distancing and go for self-quarantine, people are meeting their demand for medicines through online pharmacy stores. Looking at e-commerce transactions, the demand for cough, flu, or even cold has gone high up to an extent of 198%. In such an instance, designing an e-commerce app for the supply of medicines can help a great deal in leveraging out from this particular situation.
4. Reassure consumers
Since there is an unprecedented confusion among consumers from where and how to buy the products, you can provide reassurance by building up a robust eCommerce application to make it convenient for them to shop online. More and more consumers are gravitating towards businesses that are truthful, transparent, and offering good quality and fairly priced products. So with a user-friendly site or app, you can provide a differentiated level of consumer service and make it connected to a wider audience base.
5. Rise in new eCommerce areas
Well, organizations have already rolled up the sleeves and started focussing all their efforts in making out most of this current pandemic situation in the eCommerce industry. Since more consumers are spending time in the house than ever before it is actually a boost in the growth of the eCommerce industry. This is being applied in particular to the CPG (consumer packaged goods), grocery items, and online food delivery. Apart from that new areas in eCommerce are also opening up like real estate.
Also read:-

Which Is the Best E-commerce Platform for 2020?
6. Increased online spending
Although due to lockdown, there has been a decline in overall consumer spending. This has been partially offset due to the rise in online spending as wary consumers are staying at home and indulging in the purchase of goods. But e-commerce organizations have been benefitted by this particular trend. Even the e payment gateways are largely benefitted from this transformation. The e-commerce market is being anticipated to grow and is likely to exceed and go beyond the previously forecasted levels, riding on the digital wave of current times. Thus COVID-1 9 has far-reaching implications on the purchase behavior of consumers and pushing them quite hard to embrace e-commerce.
Conclusion
The entire world is transforming and consumers are changing too. As a consequence of this eCommerce is evolving as well. This is something that is not going to fade away even after this coronavirus will disappear. An increasing number of consumers are learning to shop online. They are actually discovering ways the newest tactics and also ways to get products delivered to the place with a high level of comfort and safety. So the question with this is whether your business is evolving as well. Due to this, you are in a great spot to revamp your retail business by hiring an e-commerce app Development Company for creating a feature-rich app. Hire a reliable and trustworthy
eCommerce app development company
for custom top eCommerce app that can be aligned to meet your unique business requirements.