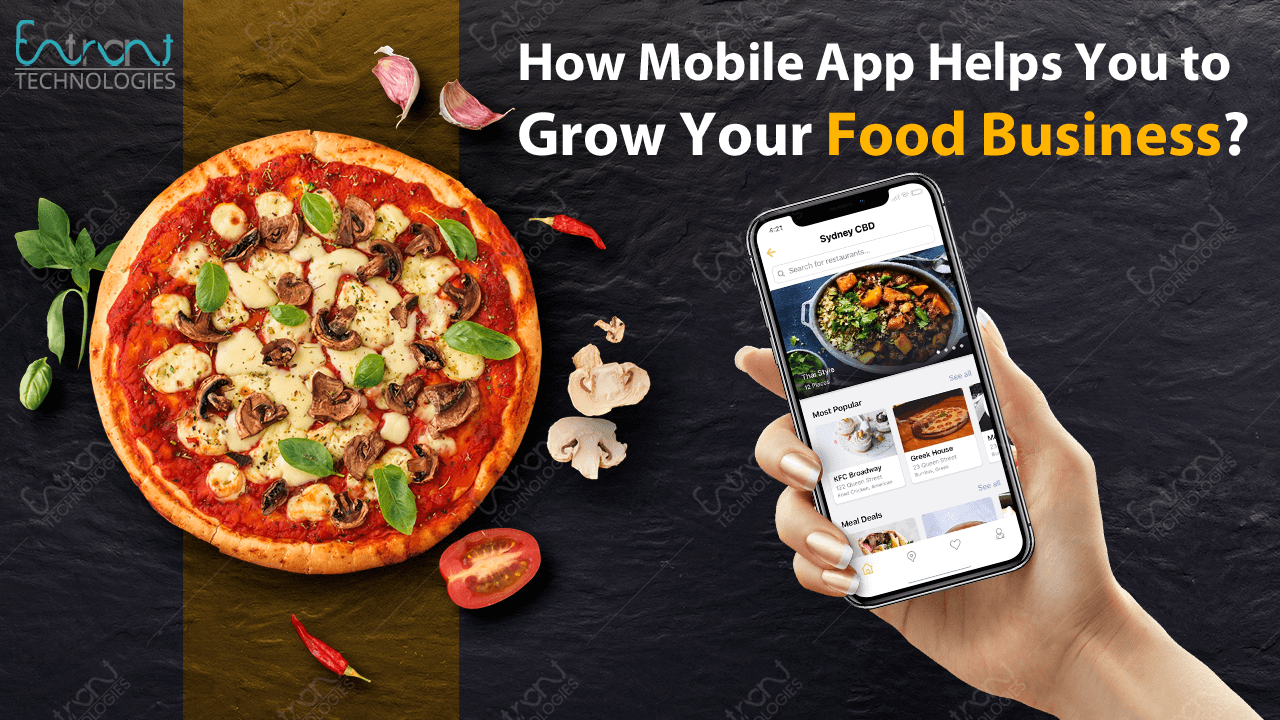 Mobile applications have taken the entire world by storm
From booking tickets to ordering food from your favorite restaurants, today mobile applications have taken the entire world by storm. This entire world has shrunk so much that now it actually fits into the palms of hands. So now consumers can get almost anything and everything in just a few easy clicks. One of the recent research reports has suggested that the food ordering business will actually grow to an extent of around 9.3 % by the year 2023 and this will result in the earning of $134490 million. Today one of the biggest segments in the food industry is a restaurant to consumer delivery business that is actually estimated with market earnings of $ 58008 in the year 2019. With an extremely impressive food delivery app development, you can attract quite a large number of consumers within the shortest span of time.

Few main benefits of integrating of technology solutions into the food business
In today's time, we have a mobile application for almost everything. The total number of smartphone users all over the world has already spanned 3 billion last year itself and it is quite obvious that the mobile app development industry will not show any significant sign of slowing down in the coming times. Today information technology is not only assisting the restaurant business owners for improving their quality of customer service but also facilitated them to actually go beyond the limitation, stretch or reshape their business. Today every business owner strives to possess an organized food ordering app. Here are a few of the main benefits of integrating technology solutions into your food business.

1. Slot reservation
Many of the premium food ordering mobile applications connect consumers to a closet of food outlets. It provides users with all necessary details for reserving tables, active food joints, online- registration, etc. By looking at information, consumers can book tables or determine whether a table at their favorite restaurant is free or not. It leads to a reduction in traffic congestion in front of food outlets.
2. Online food ordering & delivery
Today restaurants have already eradicated the role of mediators in booking orders as it facilitates the end-users to book order through a mobile application. Thus online platforms will make the entire booking process easier and convenient for users. It will also end up saving precious time that would have been taken by the mediator for penning down the entire order. Also, it becomes quite easy to track the delivery of orders through a sophisticated mobile application.



Even when the above-mentioned benefits are not enough, we let you check out a few of proven reasons why you require a mobile application for growing business.

3. Online Menu card
There are quite a large number of sites that facilitate users to place orders through the utilization of an online menu card. It facilitates consumers to place orders online without any sort of hassle or just with few of the clicks. The end-users are provided with an extremely convenient browsing experience.
4. Convenience
This is actually the main thing that consumers of today are searching for. By taking the assistance of a food ordering app development company, you can develop a robust mobile app that facilitates you to impart a seamless & highly convenient experience for the customers.

5. Reviews
A mobile app for your restaurant actually serves as a tactic for encouraging the clients to leave reviews after availing of your services. In case you prefer, just allow clients to leave out reviews within your mobile app or you can also direct them to write reviews about your restaurant on your business profile.

6. Branding opportunities
A mobile application provides businesses a perfect opportunity to actually engage the customers. Since mobile devices always remain with us, the app assists you in ensuring that consumers are being constantly reminded about the brand. Having your app installed on smartphones serves as a daily reminder in its own manner even when they are not engaged with the application.



There is an accelerated demand for mobile app development
Since mobile technologies have already affected various spheres of lives and even industries, food businesses are also not left behind. In fact, it has been counted among the businesses where the impact of mobile technologies has already become Omnipresent. The market share of food ordering apps has already grown significantly over the past few years, accelerating demand for mobile app development. Making use of mobile technology assists the business owners in solidifying the presence in the market and at the same time simultaneously helping them in promoting a brand.

Conclusion
For intuitive and responsive android app development, you can hire one of the leading mobile app development companies. The mobile app has immense potential in increasing the visibility of your business and promotes it to a large number of consumers. The professionals working with the firm develop an extremely engaging app that surely exceeds all the expectations of businesses and helps them grow.