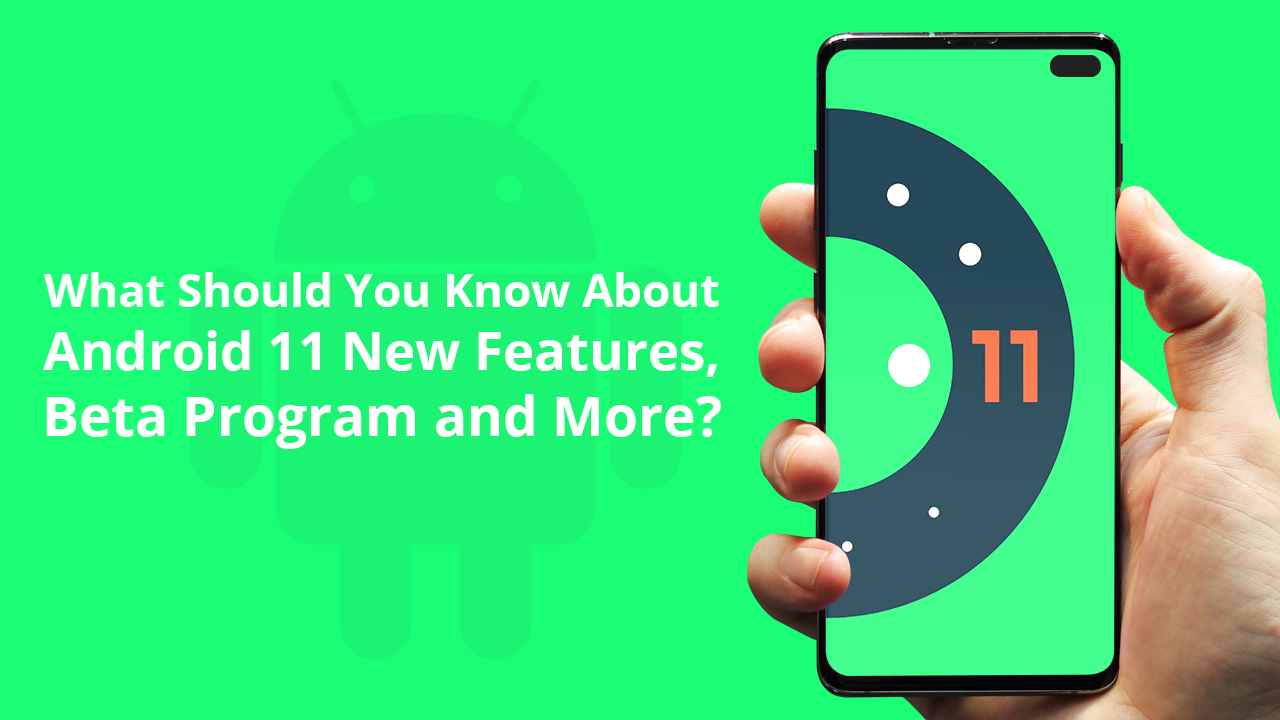 The New Year has brought the Android 11 update. In fact, Google company is working quite hard to actually prep up this latest version. The android 11 is arriving towards the end of this year and brings up a host of new and innovative features for all android phone users. Many of the features are still emerging. So you can actually expect to hear many more things about the update. Since this new update is being meant for the
android app development company
,
so you should not bother searching and installing on the supported device.
Let's check out what it means for android users before the complete version of this new update will come out.
1. NFC file- sharing
When the Android 10 version was introduced, there was a removal of the beam. This allows the mobile phones to share files over NFC itself. So the user is required to tap the mobile phones together for sharing files but now this feature is gone. It would quite be useful to introduce easy to use a feature for sharing images, videos, music or any other type of files just by pressing your smartphone. It is quite a hassle to utilize the specific app for doing, thus Airdrop by Apple company is one such eminent feature that doesn't have an equivalent in the Android operating system.
2. Improved dark theme
Well, the dark theme is not meant for everyone but people who utilize it really liked a lot. In the android 10 version, there are many problems associated with it. First of all, there are not many applications that possess their own dark mode. So whenever you use your mobile phone, you can quite often see jumping from dark to light app or back again.
3. Conversation bubbles
This is a feature that was initially introduced in android 10. It is similar to chat bubbles of Face book messenger that is being laid over the top of various other applications as well. This facilitates the user to see conversions over several apps all in one and easy to access format. But not all apps are actually compactable to it but only some apps that you utilize for messaging people.
Today Google includes it in the updated version. This led everyone to believe that the company is now pushing quite hard more to adopt this innovative feature by more of the developers.
4. On-time permission
In the quest of Google Company to perfect out android security & privacy, the organization has released out a new option within the permission system of the platform. In earlier android 10 versions, there is an option for granting an app two varied permission for the location access, either to use or deny app. In the latest version, new permission will arise- only this time. Thus android users will actually be able to grant the app permission for using location access one time. But there is no indication at all whether this particular request will occur each and every time you place an order. But in case it is just one and done option, that there would be the need to reinstall application for imparting its location access.
5. Screen recording
For capturing screen recording on android phones, users have to utilize third-party application tools. But with the release of android 11 versions, downloading such applications will no longer be required. Looking at the screen recording feature, this is something that briefly appeared in the built of android 10, then it quickly disappeared. Also, there is no way to determine whether this feature will be vanished or pulled off by the time the android 11 update will roll out. Let's hope that this time developers will leave this particular in for letting users take video screen grabs for sharing it with others.
6. Motion sense gesture
This feature can only be observed on pixel devices especially during the beginning. It will be facilitating the pause/play with a motion-sensing gesture. So when you listen to music, you can easily gesture with a mobile device for pausing or playing the current tune. It is quite handy especially when you are required to constantly pause the music for conversing with an actual human being.
7. 5G connectivity enhancements
The latest android preview builds comprises of new APIs that make it extremely easy for developers as well as manufacturers to create 5G apps & features. But purchasing 5G connectivity mobile phone is still not a good idea even when this latest update makes android much better than before.
8. Share menu pinning
The Android share menu feature has improved vastly since the release of Android 10. With the introduction of android 11, the users will be finally in a position to pin apps and also short cuts for sharing menu. The share menu pinning appeared in the earlier android 10 build cycle but it could not make it to the final release. Hopefully, this particular feature will remain as it is in the new update.
Final words
There is no official date announced by Google company for the launch of android 11 until now. But you can presume that it might be released after a month or maybe earlier. This is really meant for the
android application development company
. The users should not download this update on their own. It gets installed with a full flash that is going to wipe all the data. So don't make an attempt to download android 11 unless and until you are utilizing the busted mobile phone. The
android app development service providers
can expect innumerable improvements that can actually be seen at Google I/O in the year 2020. It will be extremely interesting to observe how such features evolve and what all other additions are actually showing up or getting removed.