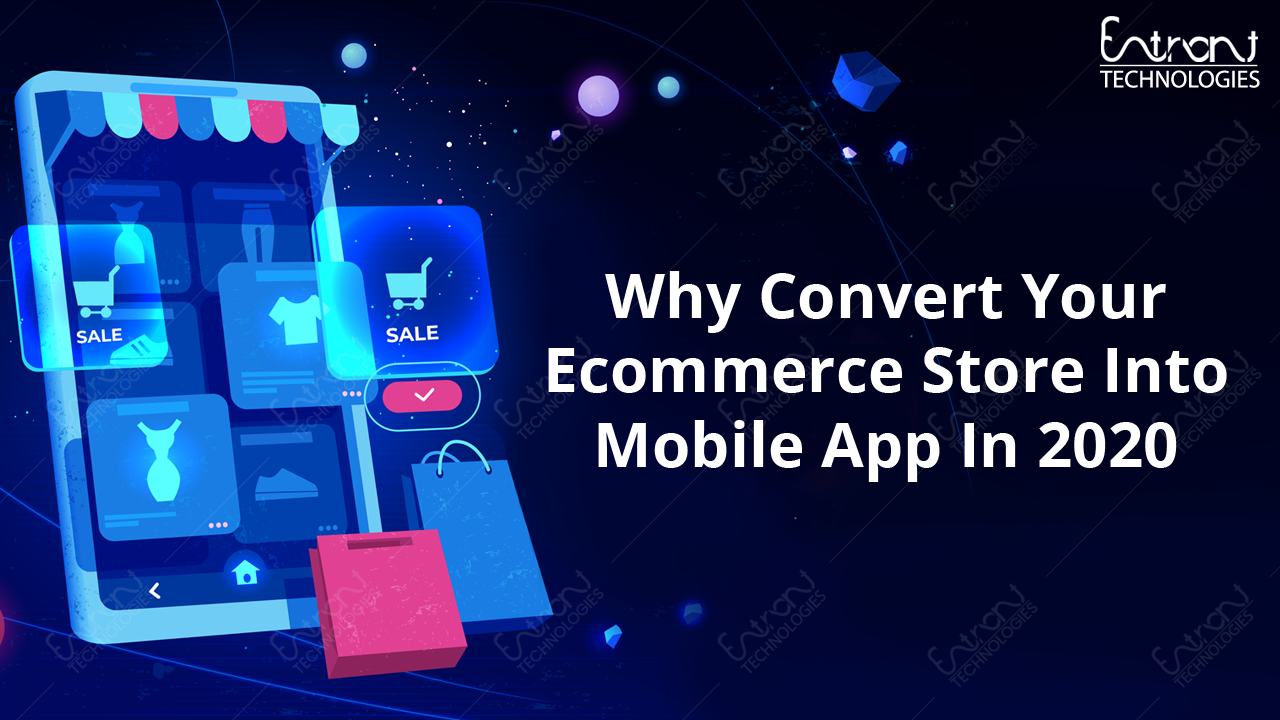 Are you thinking about what is the need to convert your Shopify store into a mobile app? Well turning your eCommerce site into the mobile app is just an initial step towards advancement. The highly functional of a mobile app can surely bring drastic transformation and growth to your business. The benefits of hiring
eCommerce app development company
are immense and provide you app with many rich features. So when you take your business quite seriously and want to expand, then creating a mobile application is a must. The app enables you to reach the target audience in a minimum possible time span. A well-optimized of the app can transform the way the entire business is being driven.
Benefits of converting eCommerce website into a mobile app
1. Branding recognition
Since mobile applications that can be downloaded from Google play store or apple store are continuously increasing with every passing day, this clearly demonstrates that people are spending immense time on a mobile application. The business owners are today trying to make use of it in the maximum possible manner. So when you do branding through a mobile app, it will clearly put your e-commerce business into the spotlight.
2. Fruitful conversions
Listing products on the mobile app can bring out more conversions to your business in comparison to the eCommerce site. There is a high level of ease and also comfort that is being offered by the app that is unmatchable. Thus it serves as a sure shot way to boost sales and increase revenue for your business.
3. Remarkable customer support
It is eminent to develop an extremely strong relationship with the customer so that they can simply rely upon eCommerce stores for shopping for their favorite items. Well, the mobile applications undeniably offer much better support to all users through inbuilt chatbots. When a quick solution is available to the customer's query or complaint, then it will earn remarkable points to the business.
4. Value
The app surely provides high-end value to the customer. It makes the users feel quite special, important and impart them much more of value in terms of points and rewards. This encourages them to make more purchases from an app in the hope to achieve more rewards and points for the amount of money that is being spent. It also makes users loyal to the eCommerce store and brings many more transactions for the business.
5. Improve client engagement
Recent research studies have already indicated that in present times an average consumer is spending greater than 3 hours a day on mobile phones. This means that your e-commerce app has a fairly heavy chance of improving client engagement.
6. Instant alerts
Sending instant alerts to all users in the form of push notifications will keep all the users thoroughly updated with all the latest offers and deals that your store is bringing up. Today the push notifications have already become one of the greatest marketing tools. All you have to do is to add up some catchy titles with discount offers and this simply attracts the user to make some successful of orders.
Features that are must for developing an ideal mobile app
The mobile applications offer an innumerable range of benefits to the eCommerce site. This is the reason why many organizations are shifting to mobile eCommerce app development. Some of the unique features that are extremely relevant for achieving minimally viable of the product are listed below.
Also read: - Why Woo Commerce / WordPress is perfect for start up E-Commerce Companies?
1. Authorization
For availing all essential features as well as functionalities, the users must be in a position to authorize them. Each of the user authorization is actually performed through direct interaction with client-server API. However looking at social logins, there is a utilization of various other protocols for authorization.
2. Setting & push notification
The various technicalities just like client-server API integration make the settings extremely convenient. Almost each and every platform provides a push application system. For the iOS platform, there is specialized APN (Apple push notification). For the android based platform, there is GCM (Google cloud messaging).
3. Orders tracking
Tracking will be facilitating users to check the status of their orders. The eCommerce app will be implementing this particular feature for withdrawing it at quite an early stage. There is also SMS functionality that notifies the consumers whenever a direction is being delivered, managed or even transported.
4. Shopping cart
This is undeniably fundamental to the entire functioning of your eCommerce app. While making a purchase, users can easily add items to the shopping cart, make payment and check out.
Conclusion
Today eCommerce business requires a mobile app that drives growth by imparting the best user experience in the world. In the world of four billion internet users, businesses from all over the world compete with each other to take advantage of its huge potential. Before you begin developing an application, you are required to define the budget and also cost estimate. There are many other parameters that are required to be considered for reaching a reasonable rate.
Due to the rapid emergence of technology, there is a significant shift in consumer buying patterns. Thus mobile apps are becoming more prominent in comparison to online stores. Thus hiring an
e-commerce website development company
is not enough. It is crucial to invest in the creation of an app by an
e-commerce development company
. So, all businesses that are investing in mobile app development are surely going to reap the rewards and those who don't will be eventually losing the potential customers in competition.